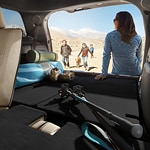 The new Ford Explorer is a headliner in the three-row SUV market. Its popularity stems in part from its plentiful performance features. These features contribute to the SUV's power and easy handling.
Take, for example, its user-friendly 10-speed automatic transmission. The multitude of gears let you drive on even the most challenging of roads. You also do not have to do any of the shifting yourself. The transmission can sense what kind of road you are driving and shift from gear to gear to give you driving power as needed.
It can also keep your SUV stable and on the road when you come up against high winds. Gusts of winds can blow off even the most durable of cars from the road. However, thanks to the Explorer's stability control system, you stay on the road and in your lane of traffic even when you are driving into or against high winds.