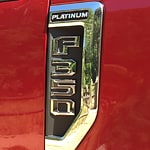 When it's time to tow tons or navigate a busy, rugged worksite, only the Ford Super Duty will do. What makes these trucks so powerful, capable, and legendary? Their durability features account for some of their renown. Here are some of our Salisbury, MA Wall's Ford team's favorite Ford Super Duty durability features.
Tow a Tiny House
The Ford Super Duty has a max gooseneck towing capacity of 37,000 pounds. That's sufficient to tow a tiny house, your boat, trailer, or medium-to-large worksite loads. This towing capacity reflects the Ford Super Duty's powerhouse engines and transmission. It's also the result of a high-strength, military-grade, aluminum-alloy body. It is some of the strongest material available, resists rusts and dings.
High-Strength Steel Frame
The Ford Super Duty combines its aluminum-alloy body with a fully boxed high-strength steel frame. The frame resists flexing, boasting the extreme rigidity that enhances crashworthiness. Plus, the use of aluminum makes the truck frame lighter in weight, which increases towing and hauling when enhanced with a monster engine.